Danny's Whole Hog
BBQ & Catering
Looking for the best barbeque catering in Winnipeg and all of Manitoba?  We do it all!
Catering, Drop Off Meals, Pick Up Meals
Whole Hog Barbecues
Ready-to-Heat & Serve Meats, Meat Pies, Smoked Meats & a great line-up of BBQ Sauces!
See our online store
.
Look no further! Call 204-344-5675 today or email [email protected]!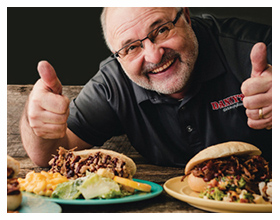 Danny serves his Famous Pulled Pork, as well as Pulled Turkey or Chicken, Pulled Beef,  Texas Smoked Brisket and much more! We have a full catering menu with premium salads and side dishes and desserts. You can even get Ribs, BBQ Chicken or Prime Rib! For all your needs for catering in Winnipeg and more – We'll Bring the Flavour!
Which will you choose?  Call our office to discuss your next great meal today!
Our Kitchen Favourites Brought to You!