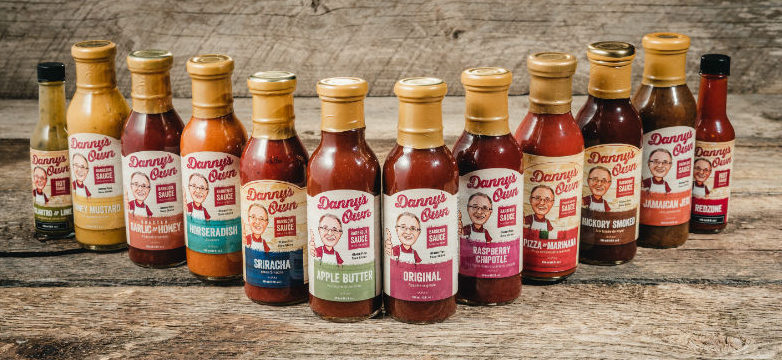 INTRODUCING A GREAT NEW FLAVOUR!: BLUEBERRY CHIPOTLE BBQ SAUCE
Danny has his own lineup of delicious BBQ Sauces!
Original       *       Apple Butter     *    Spicy Apple Butter * Hickory Smoked BBQ   *      Honey Mustard
Raspberry Chipotle       *       Blueberry Chipotle *   Roasted Garlic & Honey  
Jamaican Jerk Sauce    *    Sriracha    *    Pizza Sauce & Marinara Dip
Hot Sauces:  Cilantro & Lime     *      Red Zone

**  Loads of Flavour, Gluten-Free (except Pizza Marinara)  **                Where can you get them?  See below!
---
NEW!! A Unique Way to Advertise Your Business – Private Labels
Danny's Whole Hog is now offering Private Label BBQ Sauces at a really great price! We will put your logo/photo on our BBQ sauce bottles and you can surprise your guests or clients with their favorite flavour! Phone Sharon at 204-344-5675 or E-mail [email protected] to get more information.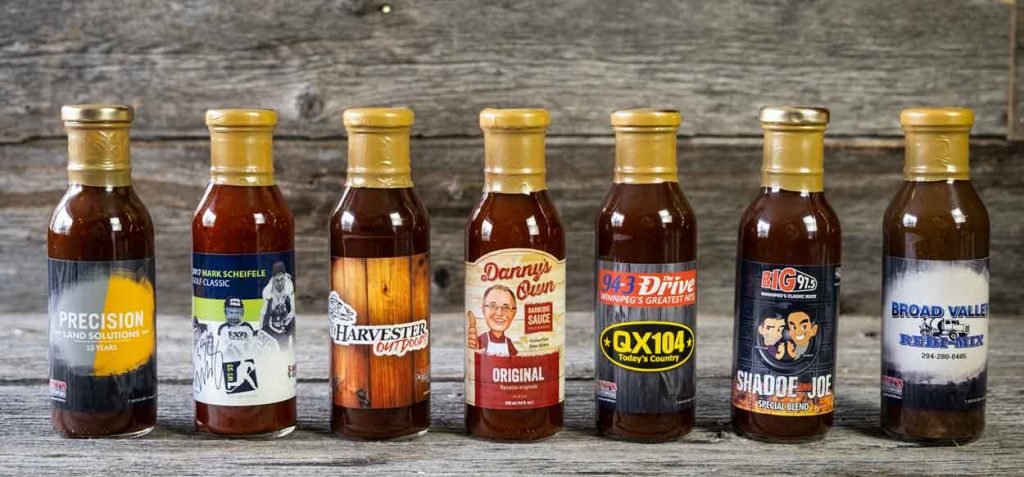 Pulled Meats &/or BBQ Sauces available at Danny's Store or at the following fine retail locations:
Meat, Sauce
Altona IGA
Sauce
Arborg Bakery
Sauce
Bake World, 276 Main St, Steinbach
Meat, Sauce
Beausejour Coop, 605 Park Avenue, Beausejour
Sauce
Big Block Auto, 207-4th St. E, Stonewall
Sauce
Bigway Foods Teulon, 36 3 Ave. S., Teulon
Sauce
Bison Boutique Flower & Gift, 90 Hampton St, MacGregor
Sauce
Bothwell Cheese Inc., 61 Main Street North, New Bothwell
Meat, Sauce
Country Meat Deli, 20-20 Brandt St, Steinbach
Meat, Sauce
De Luca Specialty Foods Ltd.
De Luca's Retail South Landing
Meat, Sauce
Danny's Whole Hog, Hwy 67 east of Stonewall
Sauce
Denny's Meat Market, 333 Wilton St. (off Grant Ave)
Meat, Sauce
Downtown Family Foods
Sauce
Emo Feed Services, 21 Canning Ln, Emo, ONTARIO
Meat, Sauce
Family Foods - St. Mary's Road
Sauce
Family Foods - Portage
Meat
Food Fare #1, Food Fare Maryland
Meat, Sauce
Food Fare Portage, 2285 Portage Ave., Lilac, Cavalier
Meat, Sauce
Fromagerie Bothwell, 136 Provencher Blvd
Sauce
Grandma Carol's, Selkirk
Sauce
Harvest Bakery, 1857 Grant Ave
Meat, Sauce
Homestead Co-op Carman, 61 Main St. N, Carman
Meat, Sauce
Italian Star Confectionary
Meat, Sauce
Johnson's Fruit Market
Meat, Sauce
Keewatin Place
Meat
Local Meats and Frozen Treats
Meat, Sauce
Lockport Grocery
Meat, Sauce
Main Bread & Butter, 253 Main St, Steinbach
Meat, Sauce
Main St. IGA
Sauce
Marcello's Meats, Unit 9-200 Meadowood Drive
Sauce
Mighty Meats and Deli
Sauce
Miller's Meats, 590 St. Mary's Rd; 1867 Grant Ave; 2-2425 Pembina Hwy; 7-925 Headmaster Row
Sauce
Montagu Trading Company, St. Vital Mall
Sauce
Neumann's Market, 2659 Henderson Hwy
Sauce
Northern Shield Trading Inc.
Meat, Sauce
Oakbank Co-op, 20 Co-op Drive, Oakbank
Meat, Sauce
Panko Foods, 1630 Sasktachewan Ave, Portage la Prairie
Sauce
Parkash Investments
Sauce
Petrasko Brothers
Meat, Sauce
Portage Supermarket, 402 E. Saskatchewan, Ave, Portage la Prairie
Sauce
Prairie Foods
Sauce
Roblin Quality Meats
Meat, Sauce
Red River Co-op Stores:

Lorette
Selkirk
St. Vital
Grant Park
Southdale
Stonewall
Meat, Sauce
Safeway Stores:

Ness
Selkirk
Marion
Corydon
Grant
Kildare
River

Henderson
Dauphin
Pembina
Portage Avenue
Alpine
Kenaston
Sauce only
Safeway Stores:
Brandon
Thompson
Keewatin
Meat only
Safeway Stores:
Osborne
Meat, Sauce
Save On Foods Stores:

Bridgewater- 400 North Town Road, Northgate- 1399 McPhillips St, St. James- 850 St. James St.
Meat, Sauce
Sobey's Stores:

Bird's Hill
Kenaston
Northdale
Rivergrove
St. Anne's
Unicity
Brandon South
Grant Park
Pembina
Sage Creek
Steinbach
Meat only
Sobey's Stores:
Portage la Prairie
Reenders
St. Vital
Sauce only
Sobey's Stores:
West End
Sausage, Sauce
Smoke N' Fish, 405 Main St., Selkirk
Sauce
Jardins St-Léon Gardens Market, 419 St. Mary's Rd (seasonal)
Sauce
Springfield Meat and Sausage
Meat, Sauce
The Carver's Knife
Meat, Sauce
The Stonewall Grocers Limited
Meat, Sauce
Winkler Fruits & More Store, 299 1st St, Winkler